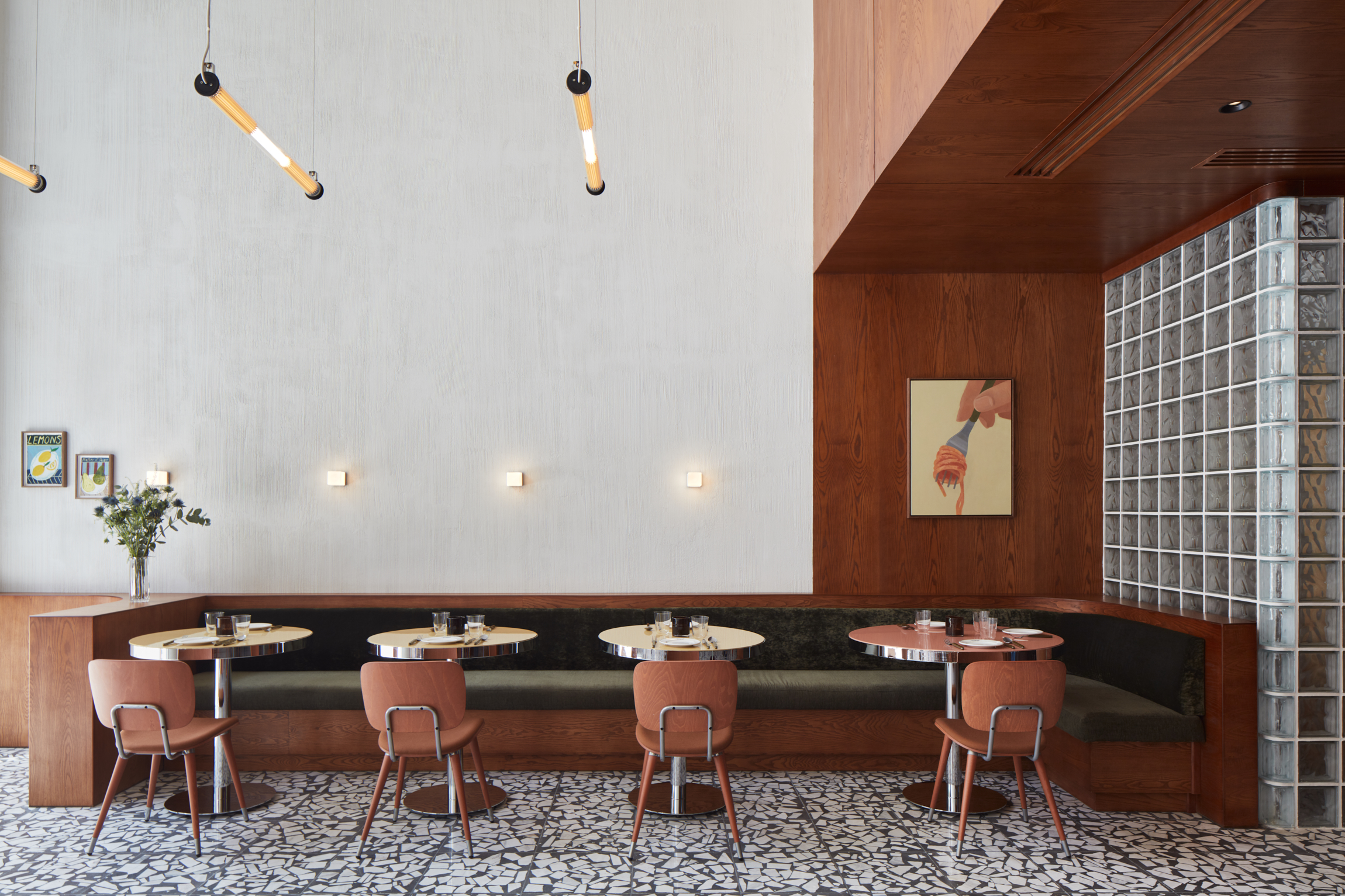 Location: Doha, Qatar
Status: Completed, 2023
Role: Designer
Project Team: Rawan Muqaddas, Selma Akkari




Situated in the prominent West Walk development in Alwaab, a local neighbourhood in mainland Doha, Juno is an Italo-American restaurant designed by Rawan Muqaddas and Selma Akkari. The duo was tasked by a local restaurant group to envisage a design that seamlessly blends comfort, nostalgia, and enjoyable food. The two assembled a dedicated project team and guided the conception of the contemporary neighbourhood neo-diner.

Recognizing the value of regional talent, Rawan and Selma chose to work with London/Beirut based branding agency Bananamonkey to give the concept a name. Juno is set to become an essential local spot offering an all-day dining experience through its warm ambience and enjoyable culinary offering.

Drawing inspiration from the timeless Italian establishment and the iconic American diner, Juno's interior evokes a warm and welcoming atmosphere that combines materials and elements reminiscent of both culinary worlds. Upon entering Juno, customers are greeted by a grand facade that welcomes an abundance of light into the interior. Bi-fold windows were thoughtfully introduced to establish a seamless connection between the interior and exterior during cooler months, offering a holistic and relaxed feel. Subtle curves then guide the flow of movement within the restaurant floor, carefully set against subtly textured plastered walls.

The initial challenge was for the space to achieve a cosy and inviting feel despite the imposing double-height ceiling occupying the front half of the restaurant. Through the definition of volumes, the duo was set to deploy a grander architectural element to frame and celebrate the diverse characteristic of the space. The introduction of the classic glass block tucked away the staircase revealing glimpses of the flow from food preparation to service in the back-of-house areas. While simultaneously integrated into the broader warm wood volume, the pizza bar and service area are placed under the mezzanine level. The choice of warm wood cladding was selected as an ode to the traditional restaurant environments, giving the space a retro charm.

Rawan and Selma curated a refined combination of materials that come together to create contrast and give the space a playful character. The floor, boldly made of large terrazzo marble chips cast in dark grey is uncomplicated yet daring in its presence. The banquettes discreetly hug the colorful tables only at the ends directing the gaze over to the sun-drenched facade. The tabletops, in a high gloss of yellow and peach are edged by bright chrome, a nod to the iconic aesthetics found in old-school diners. This neo-diner approach extends to the selection of furniture and cutlery, with wooden chairs by Verges adorning the tables and custom plates bearing the Juno logo.